Legazpi is a thriving city in the province of Bicol. This once a farming and fishing village in the southern part of Luzon Island in the Philippines is now a must-go-to place for both local and foreign visitors.
Whether this is your first time visiting the place or not, these amazingly picturesque spots in Legazpi will surely take your breath away.
Mayon Volcano National Park
Photo courtesy of Infinity Journeys, Inc.
There's no denying that Mount Mayon is one of the world's most beautiful – and perfectly cone shaped – volcanoes. Its perfect symmetry has been featured in all sorts of photographs and videos. Though it is still very much active, visitors will surely not be able to keep themselves from trying to get close as possible.
Visitors can hike along the base of the volcano, ride an ATV or take a jeepney tour to explore this majestic wonder.
Cagsawa Ruins

Photo courtesy of Wikipedia
Rebuilt after it was destroyed by the Dutch in 1636 and ultimately destroyed again during the Mayon eruption in 1814, the remains of this 16th century Franciscan church embodies the strength of Bicolanos as it still stands proud amidst all uncertainties. Plus, with Mount Mayon as its background, it gives off a very hauntingly beautiful image one cannot simply turn away from.
Ligñon Hills Natural Park

Photo courtesy of Explora PH
Situated on top of a hill, this park offers a 360-degree view of the Mayon Volcano along with the rest of the city. Not only that, but it also offers several activities for the adventurous souls out there including ziplines, rappelling, and trekking. If you wish to see some of the most beautiful sunrise and sunsets, consider spending the day here.
Quitinday Falls and Underground River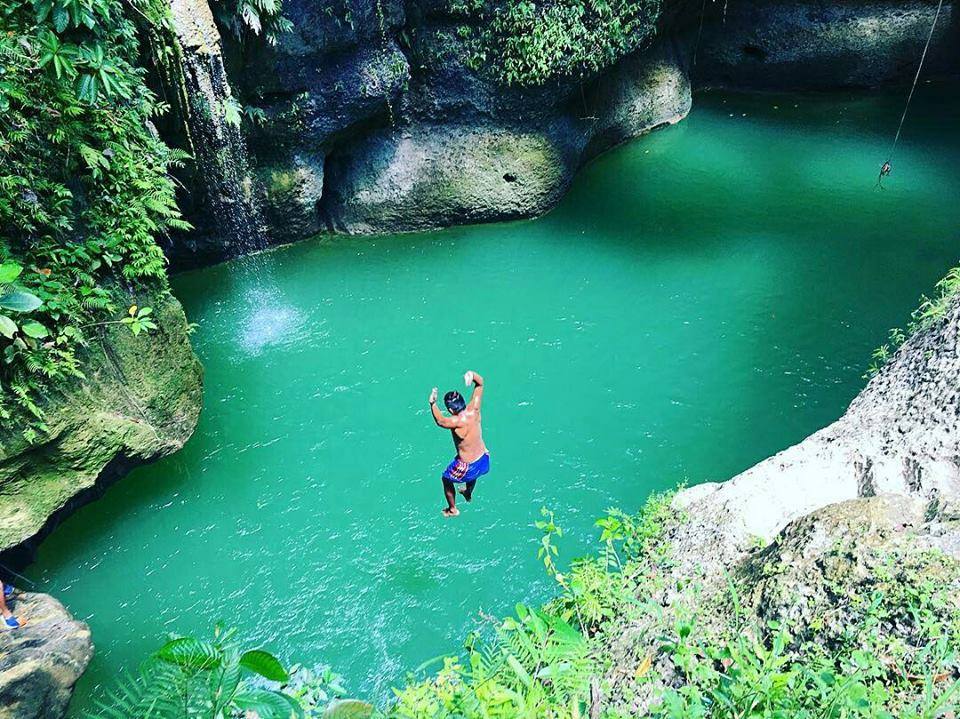 Photo courtesy of Steemit
It may not be as popular as the underground rivers in Palawan, but the Quitinday falls and the underground river is just as beautiful. It is best to hire a tour guide to go through the caves and navigate your way around. There's also an entrance fee at the beginning – a small price to pay for such an amazing place.
Daraga Church

Photo courtesy of Wikipedia
There's no question that churches are some of the most majestic piece of architecture you can find all across the world. Here in the Philippines, we have several of those and one of which is The Nuestra Señora de la Porteria Church in Legazpi, more commonly known as the Daraga Church.
Built-in 1773, this Franciscan church has experienced all sorts of things including the devastating eruption of Mount Mayon in 1814 that killed more than a thousand people. But to this day, this sublime architecture still stands with the Mayon Volcano as its backdrop. Furthermore, it is now considered as a National Cultural Treasure by the National Museum of the Philippines.
Mayon Planetarium & Science Park
Photo courtesy of Mayon Planetarium & Science Park Facebook
If exploring the base of Mount Mayon isn't enough, you can try going up the volcano itself halfway up and visit the Mayon Planetarium and Science Park. Although the name suggests that it's all about the solar system and the likes, the park focuses more on the volcano – specifically the one where it stands currently. You can get some of the most amazing views around the Mayon from here.
Legazpi City is certainly a place you should consider visiting and exploring if you're in the country. Aside from the many marvelous scenes and places you can visit, the food is also one you should try your hands on.
If you're planning to visit this wonderful city, you can book a stay with us at RedDoorz. For the safest and most comfortable accommodation during your travel, you can visit our website and download our mobile app to get the most affordable deals there are.