Just a three to four-hour drive from the country's capital, Batangas is an amalgamation of countryside experience – favorable climate, picturesque beaches and Batangueno hospitality. Aside from its mountainous topography, it has a vast selection of local food and delicacies that is top-notch!
Looking for a food tripping journey away from the busy streets of the Metro? Batangas' wide range of mouth-watering local dishes will cloud your appetite while choosing what to eat. Your gastronomic adventure starts here!
What's the best dish to complement a long drive and favorably cold climate? A sip of Batangas' best – Bulalo! Also known as bone marrow soup, it's just beef shank boiled in water with salt, black pepper, and fish sauce to taste added with basic vegetables – cabbage, chinese pechay, potatoes, and corn. The secret is how long it is cooked – it takes forever to boil but tastes like heaven when eaten
Photo courtesy of Yummy.PH
If you're into food adventure, be thrilled with Batangas' version of Bopis – the Taghilaw. It is composed of pork innards, chili, and black pepper. But don't be fooled by its name, it is slowly cooked in vinegar and is not served raw at all.
Photo courtesy of Ang Sarap
Tapas are commonly known as beef, but the famous Batangas' Tapa is actually pork – Tapang Taal. Its garlicky sweet taste is a marination of soy sauce, garlic, black pepper, Worcestershire sauce, calamansi juice, and sugar making it a perfect all-day meal – from breakfast to dinner! Comparable to the latter, Longganisang Taal is a fatty-garlicky pork delicacy. Both are best paired with egg and rice.
Photo courtesy of TripAdvisor
Looking for a perfect snack to nibble while on the road? Batangas' famous Panutsa is what you are looking for! It is their version of peanut brittle – caramelized sugar molded into circles with larger peanuts and darker color.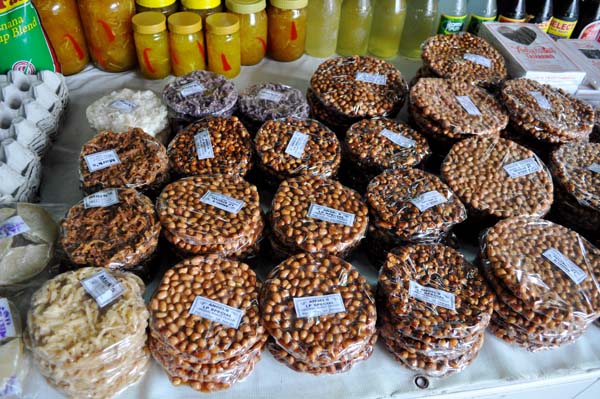 Photo courtesy of The Couch Sessions
Filipinos are fond of pasalubong. Panutsa can be one of the top choices. Batangas also boasts its suman delicacies – Sumang Batangas and Tamales. The first is best eaten hot or cold and known for its chewy and nutty taste. The latter is made of malagkit (sticky rice) filled with shredded chicken, eggs, peanuts, and atsuete (annatto) wrapped in banana leaves. Both are best paired with Kapeng Barako – Batangas' authentic blend with stronger taste than most coffee.
Photo courtesy of It's Me Bluedreamer!
It is best to end a gastronomic journey with a relaxing, safe, and comfortable accommodation. It is satisfying both your travel and food cravings! RedDoorz got you covered! We have safe space properties where delicious food is at.
Don't miss to check out our RedDoorz app and/or visit www.reddoorz.com for the wide accommodation selection and promo offers. #