Us, Filipinos, have a bit of a sweet tooth – that's an understatement.
You'll find that most of our dishes and delicacies tend to be on the sweeter side of things compared to our other neighboring countries, let alone the western ones. This doesn't also come as a surprise how much we love our desserts.
We love it so much that we don't need to wait at the end of our meals to have them. We mean, you don't have to, if you think about it.
Here we list some of our all-time favorite Filipino Dessert snacks we are currently craving for.
Leche Flan - Translated to as milk flan, this milky and yolky sweet goodness is heaven in your mouth. It is based on the Spanish' Leche de flan, however, the Filipino version has much more egg yolks and condensed milk in it.
Photo courtesy of Kawaling Pinoy
Ube Halaya - One of the easiest Filipino dessert snacks you can make, Ube Halaya is made out of – surprise surprise – Ube and condensed milk or sweetened coconut milk. It is similar to a pudding that you can eat on its own or as an additional topping to your ice cream and cake.
Photo courtesy of Yummy PH
Mais Con Yelo - As its literal translation is corn with rice, this cold and refreshing dessert is something you can usually find being sold on the streets here in the Philippines. The ingredients couldn't be any simpler: sweet corn, milk, sugar, and shaved ice. But what's great about Mais Con Yelo is that you build on it, adding toasted rice krispies, crushed corn flakes, and even ice cream.
Photo courtesy of Lutong Bahay Recipe
Ginataang Bilo-Bilo - Made with sticky rice balls (bilo-bilo) and thickened coconut milk (gata), Ginataang Bilo-bilo is inspired by the Chinese dessert that symbolizes wealth sticking to whoever consumes them. Aside from the rice balls, it is customary for us Filipinos to also add in a few things like banana, sweet potato, or Ube in this starchy dessert.
Photo courtesy of AM Carmen's Kitchen
Buko Pie - If the U.S. has their Apple Pie, us Filipinos have our Buko Pie. This pastry is famous with the locals as a Pasalubong or a souvenir, however, as years go on, many just simply buy it for their consumption. Even as far as going all the way to Laguna, a place it originated from, to buy the freshest baked goods.
Photo courtesy of Pepper PH
Halo-Halo - No matter where we are in the world, Filipinos would always crave Halo-halo. It literally is a mixture of everything sweet and delicious. For those who aren't familiar, it is made up of shaved ice, milk, and an assortment of toppings including sweetened beans and fruits. It's also served with ice cream, Leche flan, and Ube on top. It's everything in a glass. What more can you ask for?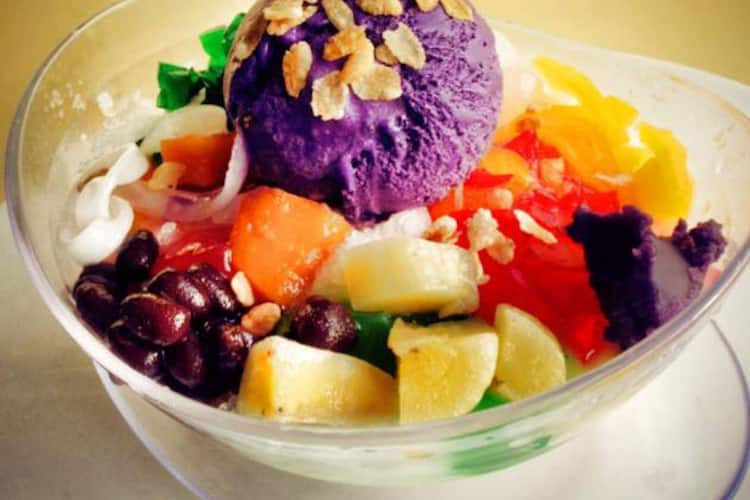 Photo courtesy of savvynana
Plan your visit soon here in the Philippines to get a taste of these delectable desserts. And while you're at it, why don't you check out RedDoorz for the best accommodations at the best price. We have hotels all across the Philippines ready to serve you!